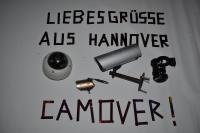 In preparation for the police congress in Berlin some people gathered to destroy five CCTV-cams. Four cameras to-go, one was damaged by cutting the cable. In the supermarket, in the university, at work, in the tram or in the ATMs – we hate them all. We are not interested in feeling "safe" and we don't want them to stop crime. Greetings to the graffiti-sprayer, who was caught two weeks ago in the underground station Kopernikusstr., because two Üstra-Securities were watching him by CCTV.
Smash the police congress!
No chance for the inner security!
Auch in Hannover haben sich knapp zwei Wochen vor dem Polizeikongress in Berlin einige Gegner_innen der inneren Sicherheit zusammengetan und fünf Überwachungskameras in der Hannoverschen Nordstadt unbrauchbar gemacht. Vier davon wurden direkt eingesackt, eine weitere durch das kappen der Kabel ausser gefecht gesetzt.

Ob im Supermarkt, in der Uni, auf der Arbeit, in der Strassenbahn oder am Bankautomaten – uns kotzen diese Dinger gewaltig an! Wir haben kein
Interesse daran uns "sicher zu fühlen" und wir finden es auch nicht gut wenn durch sie "Straftaten" verhindert werden. An dieser Stelle solidarische Grüße an den Sprayer, der vor zwei Wochen in der U-Bahnstation Kopernikusstr. erwischt wurde, weil zwei Üstra Securities ihn über die Kameras beobachten konnten.

In diesem Sinne:

Überwachungskameras zu Altmetall!

Polizeikongresse angreifen!

Keine Chance der Inneren Sicherheit!