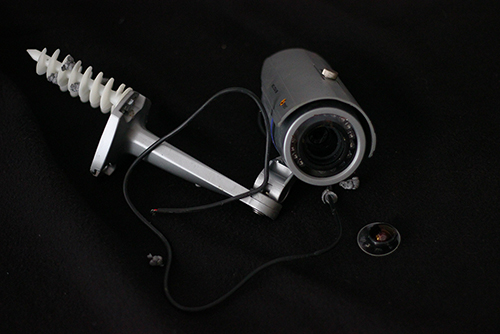 30/31st of january: "Commando for the revision of repressive Voyeurism KRRG" is leading the competition by proving their second action in Berlin.
After having smashed several cameras two nights ago, they destroy another one again in Friedrichshain. The action hit a hotel that has, as they say, suffered before because of being guilty of gentrification.
No peace for the state and his friends!
From https://linksunten.indymedia.org/de/node/77610
In der Nacht vom 30. zum 31. Januar haben wir erneut Überwachungskameras in Berlin Friedrichshain unschädlich gemacht. Schon in der Nacht des 29. Januars wurden von uns mehrere Kameras in der Kinzigstraße in Friedrichshain als praktische Intervention gegen die Überwachung des öffentlichen Raums zerstört.

Als Team, das sich an der Kampagne CAMOVER beteiligt, wurde von uns nun auch noch eine Kamera in der Holteistraße beseitigt, sowie die Fassade des Gebäudes mit dem Slogan "CAMOVER" verschönert. Das von unserer Aktion betroffene Hotel war bereits im Juli 2012 kurz nach seiner Eröffnung Ziel eines Angriffes unter anderen Vorzeichen (https://directactionde.ucrony.net/node/1797).

Die Überwachung unseres Alltags nimmt immer umfassendere Formen an. Sei es in der Bahn, auf der Arbeit oder beim Gang durch die Straßen unserer Städte; fast nirgendwo können wir uns noch bewegen, ohne von staatlichen oder privaten "Sicherheits"systemen aufgezeichnet zu werden. Genau deshalb rufen wir alle, die wie wir keine Lust auf die bestehenden Verhältnisse mitsamt Überwachung und staatlicher Kontrolle haben, dazu auf, sich an der CAMOVER-Kampagne und den Protesten gegen den Polizeikongress zu beteiligen!

Kein Frieden mit dem Staat und seinen Freunden!

Kommando zur Revision Repressiver Gafferei KRRG (Ex 'Kameras zu Elektroschrott')